Belmont International English website last updated October 11, 2018.
Welcome to our website

This site has been created as a medium for teachers and adult students of English
for speakers of other languages to use to share experiences. It is designed primarily
for intermediate to advanced students and their teachers.
Fall Semester has begun.
You may still register on line if you are confident you belong in an advanced or moderately advanced class. Click on "Registration" in the top left of this page and fill out and submit the form. We are still accepting registrants for the advanced class, but lower level classes are full right now. When we have another registration period for these classes, I will post it here.
Fall break next week
Our fall break from school will be next week. We will have no class the week of October 15 - 19. We will look forward to seeing all of you on Tuesday, October 23.
We have a very congenial group from many different countries. In the front row are our wonderful volunteers. Next to me is Sherry Loller, then Joyce Eyler, Ellen McPherson, Joan Nicoll, Irene Boyd, and Sally Tiven. On the end is Jinjing Meng, our associate teacher from Peabody.
Associate teacher from Peabody
Jingjing Meng is an advanced student in the Peabody College of Education of Vanderbilt University. We are pleased to welcome Jingjing to our class. She will be working with us for the fall semester.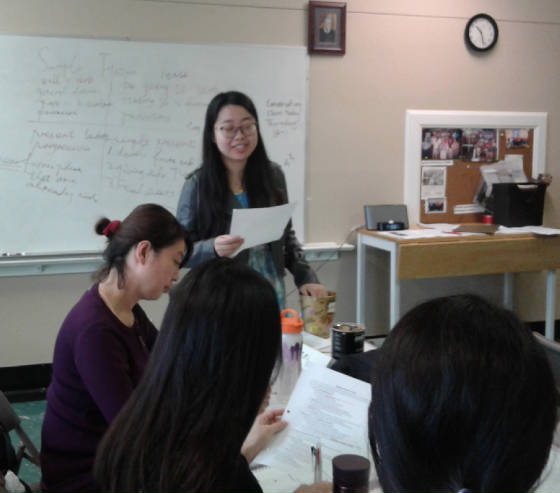 Jingjing is explaining a grammatical point to the class.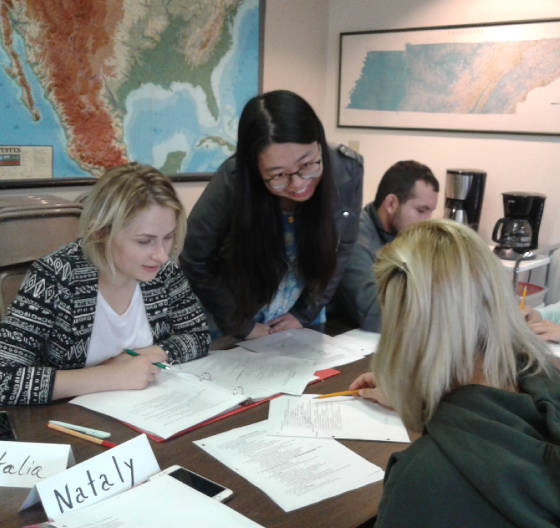 Jingjing is clarifying a point for Natalia and Nataly.
We work hard, but we have fun, too. Language is an integral part of life, and we enjoy working together, playing together and talking together .
Various topics are discussed on the pages of this site. To find the topic you are
interested in and to download material, click on the "Topics" heading in the navigation
bar in the upper left corner of this page.