Belmont International English website last updated August 13, 2018.
Welcome to our website

This site has been created as a medium for teachers and adult students of English
for Speakers of Other Languages to use to share experiences. It is designed primarily
for intermediate to advanced students and their teachers.
School's out for the summer
We will have no English classes during the summer. Our formal registration for the fall semester will be from 9 a.m. to 11 a.m. on August 28, 29, and 30 in the Community Center of the Belmont United Methodist Church, 2007 Acklen Avenue. If you feel confident that you belong in an advanced class, you may register on line by clicking on Registration in the upper left of this page, and filling out the registration form. If you were a student for the spring semester, I would appreciate it if you would register again for the fall semester.
There are a few programs open in the summer. Go to Other Programs, in the upper left of this page, and look at the information I have. Unfortunately, my information is incomplete. You may also contact Julie Kramer at Nashville Adult Literacy Council for more information. jkramer@nashvilleliteracy.org 615 298 8060.
Have a good summer! I hope to see you in the fall.
Change of date
Our school has had to change the dates of registration and beginning of classes. Registration will now be September 4, 5 and 6, and classes will begin Tuesday, September 11. If you register on line for my class, no further registration is necessary. Just come to class on Tuesday, September 11.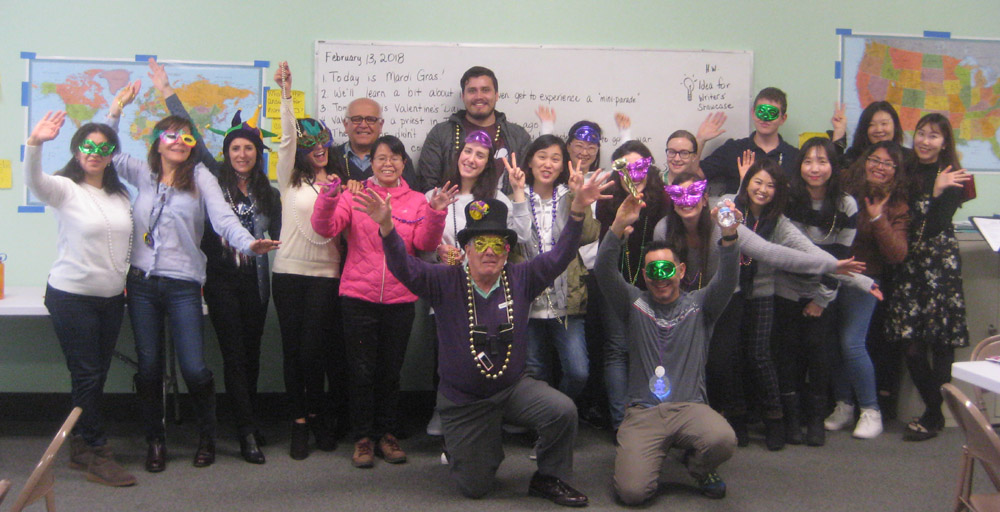 Today was Mardi Gras, and the saints (and sinners) went marchin' through Dick's and Mary Kaye's classes and threw some beads. A good time was had by all.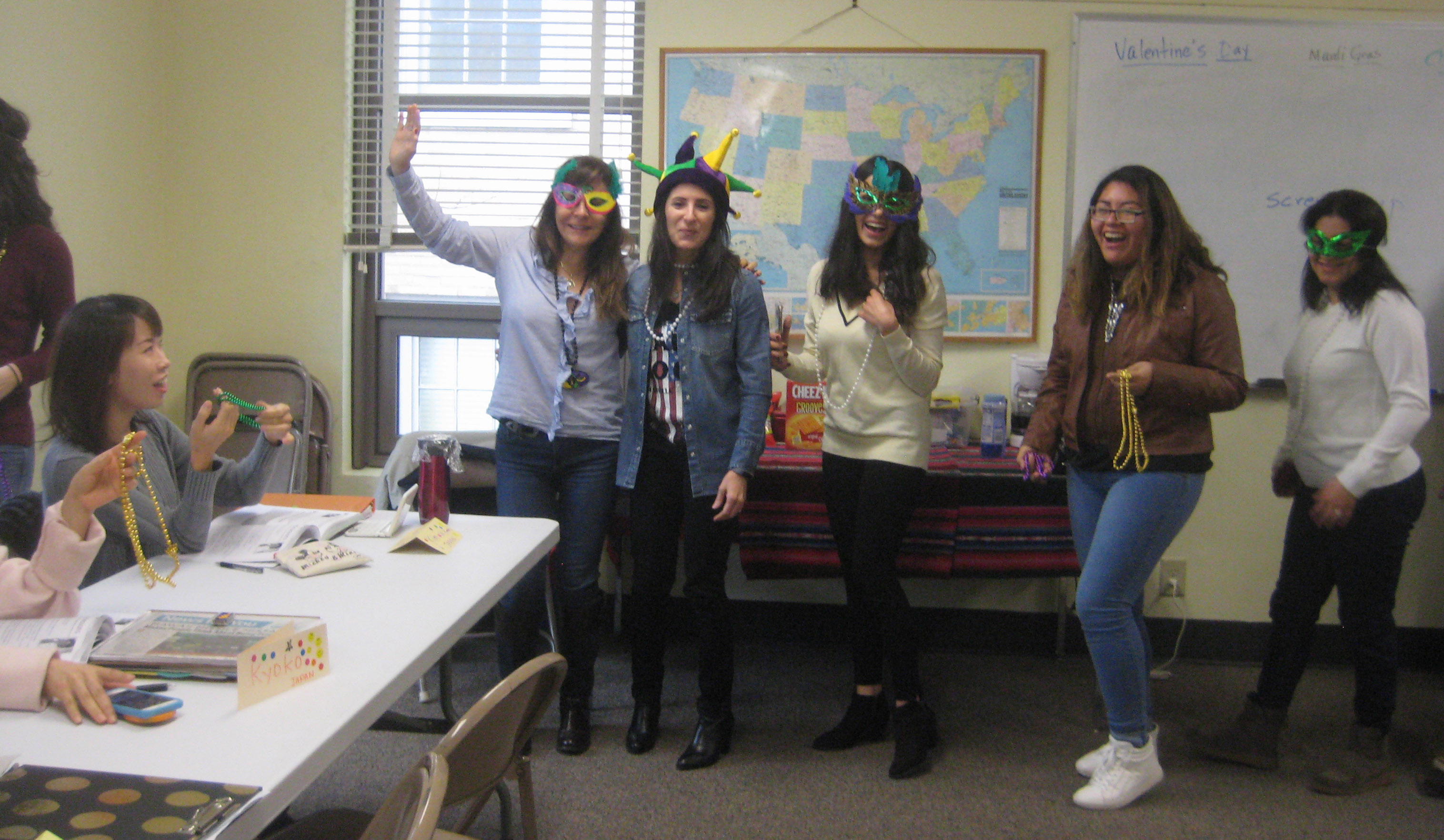 Clau, Ieda, Jiyan, Mili, and Proshat are throwing beads and entertaining Mary Kaye's class.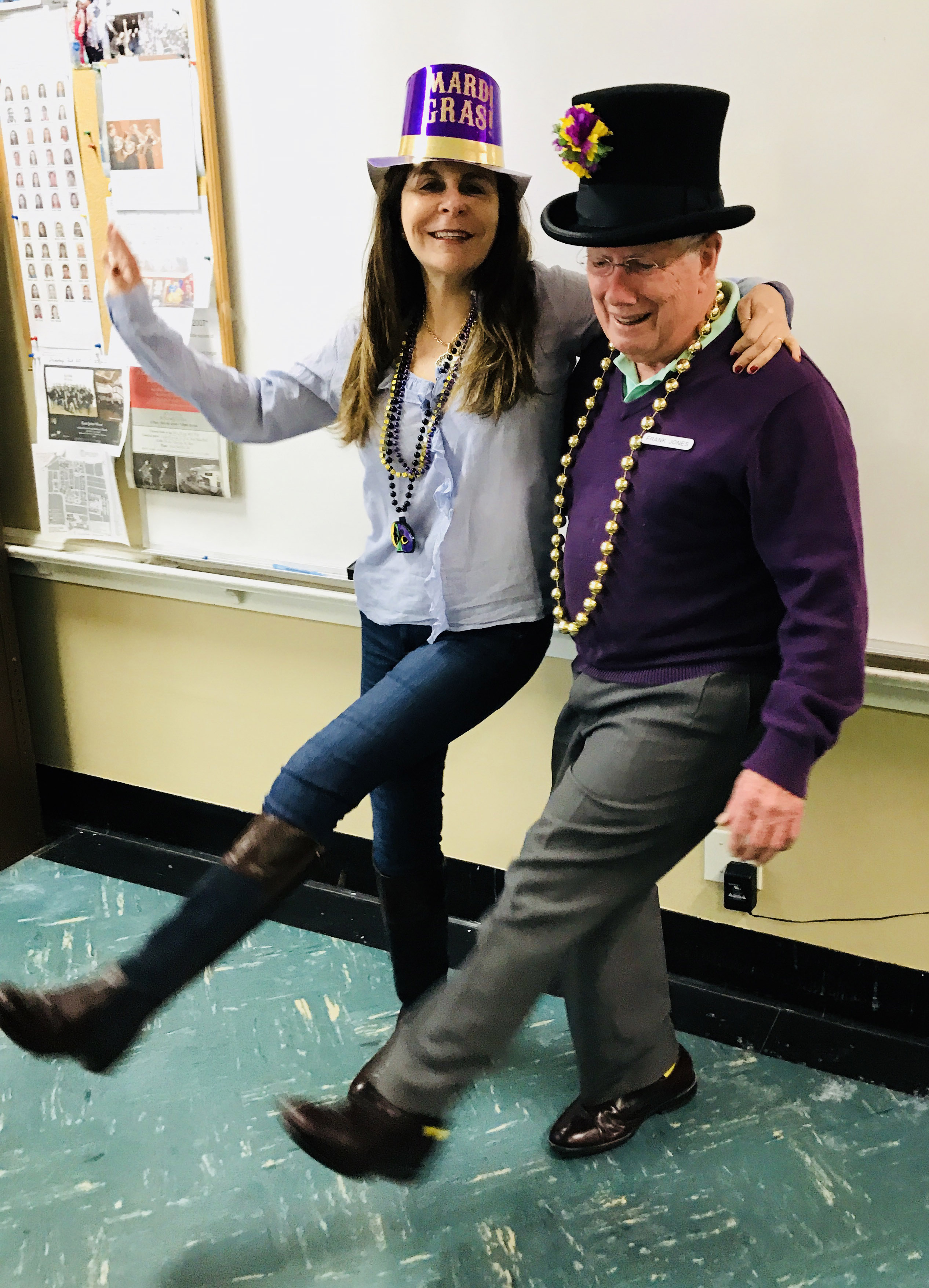 Clau is showing me how it's done in Chile.
click here to download blowing out the candles
For our exercises earlier this semester, Carmen really got the room jumpin' with a Spanish dance. In addition to getting the blood flowing, it got everyone in a good mood.
We work hard, but we have fun, too. Language is an integral part of life, and we enjoy working together, playing together and talking together .
Various topics are discussed on the pages of this site. To find the topic you are
interested in and to download material, click on the "Topics" heading in the navigation
bar in the upper left corner of this page.