Classes in English for Speakers of Other Languages are offered for adult Nashvillians in classrooms provided through the generosity of the members of the Belmont United Methodist Church, at 2007 Acklen Ave., Nashville, TN 27212. Our primary class meets Tuesday and Thursday mornings from nine to noon.
We have a very diverse and interesting group of students, and we welcome new students. For further information, go to contact us on the navigation bar and send me an e mail.
Cheers, everyone! Happy Thanksgiving! We're just happy to be together.
We have a new associate teacher
Silin Yin will be our associate teacher for the fall semester. Silin is an advanced student in the Peabody college of Education of Vanderbilt University. We are honored that Silin and Peabody chose our class for her practicum.
Silin is helping Eve and Hyo
Writers' Showcase 2017
April 27 was Writers' Showcase night. Twenty two students in our class submitted essays for the Writers' Showcase, and of these, the judges chose three to be read before an audience of friends of the Belmont ESL Program, and, of course, friends and families and fellow students. The three students whose work was selected were Inhee Choi of Korea, Kalen Yu of China, and Selda Canturk of Turkey. I am very glad that I didn't have to choose, because I read them all and I thought they were all great!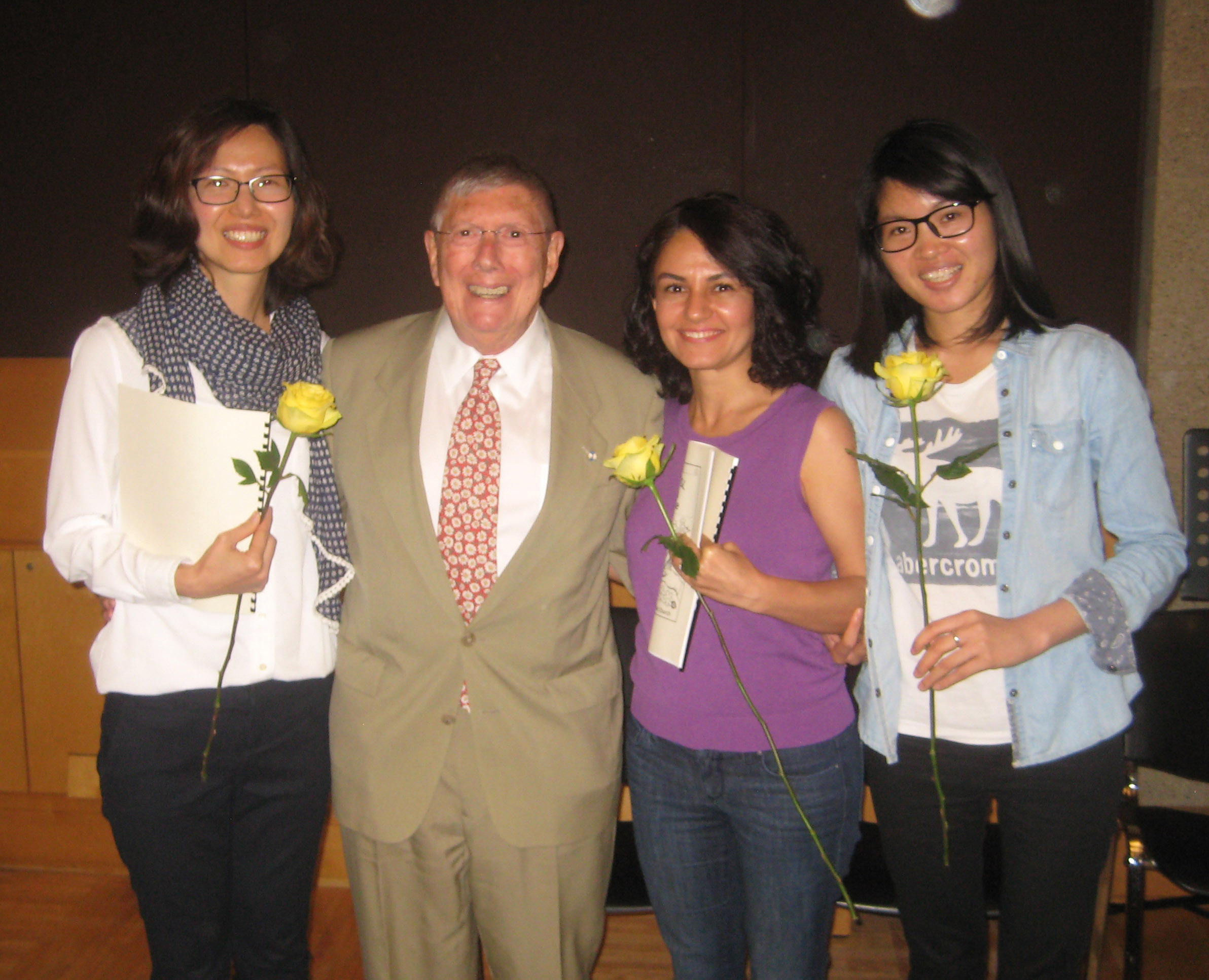 The winners as chosen by our judges are Inhee Choi, Selda Canturk, and Kalen Yu
Mary Kaye arranged for us to have a line dancing lesson, as part of our cutural enrichment program. We started off the day listening to "Boot Scootin' Boogie" by Brooks and Dunn, and then we went to the community center for our dancing. It wasn't quite a honky tonk, but we are in a church, after all. Pictured are Ieda, Frank, Carla, and Marie.
BELMONT ESL WRITERS' SHOWCASE 2018
Writers' Showcase is a writing event that is open to all Belmont ESL students. It features original writings by students from every level of Belmont's ESL program. All levels are included, from beginning to advanced.
Students write stories.These stories are then read by a group of teachers and other professionals from Nashville. Several stories are chosen to be read at the performance in the spring. On April 26, a special celebration will be held. All students, their families, and members of the community will be invited. Winning stories will be read by guest speakers. If your story is chosen, your name is printed in the program and you are invited to sit on the stage during the performance.
Only real stories (non-fiction) may be submitted. Your story may be serious or funny. The first draft should not be over two pages, double spaced with font no smaller than 12. After revisions, it will need to be shortened to one page.
Past stories have been about:
How I met my husband/wife
My first impressions of America
Adjusting to life in a different culture
Being trapped in the men's bathroom at a restaurant (written by a woman!)
Coming to America (written from the point of view of the family dog).
Other ideas could be:
What I like or dislike about the USA.
What I would like Americans to know about my culture or country.
A childhood memory.
This is a terrific chance to improve your English. You will write a rough draft which is due before March 1. Every student must submit an essay. I will go over it with you and make suggestions to improve your grammar and to help you write clearly. Plan on rewriting your story several times. Writing well is not easy work, and professional writers revise what they've written several times, improving it each time.
Your stories will then be sent to judges who are experienced writers. These judges are not affiliated with our school. They will evalute the writing without knowing the name of the writer, and will choose three winners from each class. The winning essays will be read by experienced readers in front of the audience which is made up of your families and classmates.
Hallowe'en
We were visited by a bunch of ghoulies and ghosties and long-leggedy beasties and things that go bump in the night, but although we were scared, all of us survived.
First, La Caterina came in to scary music. She tried to frighten Yujung.
Then, La Caterina was soon joined by a scary Hippie.
They weren't the only scary things. We were soon invaded by strong men, dragons and witches.
We discovered that, if you gave them candy, the scary things would go away and eat the candy instead of eating you.
Homework
Homework is an important part of the learning process, and I expect every student to do his homework every week. When I read over your written work, I can identify areas in which the whole class needs further instruction. This helps me to plan my lessons. In addition, I can find some individual problems that I can help you with.
There are three homework assignments this week. They will be about the same every week.

1. Choose five of the phrasal verbs that I gave you Tuesday, and write one sentence using each of these phrasal verbs; a total of five sentences. You may send your homework to me by e mail. If you send it as text, I will print it out, correct it, and return it to you next week. If you send it as a MSWord attachment, I will correct it using track changes, and e mail it back to you. You may also simply write your homework on paper and give it to me later this week. We will discuss the phrasal verbs and work on the substitutions next week.
2. Read an article in a newspaper or magazine, and be prepared to present it to the others at your table on Thursday. I want you to look at your listeners, and tell them about the article. Don't read to them.
3. Read the next chapter of Call of the Wild, by Jack London. Read it rapidly, and enjoy the story. Don't look up lots of words. Use your dictionary very little, or not at all. I think you will enjoy it.
Click here to download study questions for chapter 1 of Call of the Wild
Click here to download study questions for chapter 2 of Call of the Wild
Click here to download study questions for chapter 3 of Call of the Wild
Click here to download study questions for chapter 4 of Call of the Wild
Grammar Book
As I mentioned in my introductory letter, we will use Understanding and Using English Grammar, by Betty Schrampfer Azar. We are using the third edition in class, but the fourth edition, available here in .pdf form is very little different. You may access the entire book any time, free. We don't do a lot of work on grammar in this class, but we do some.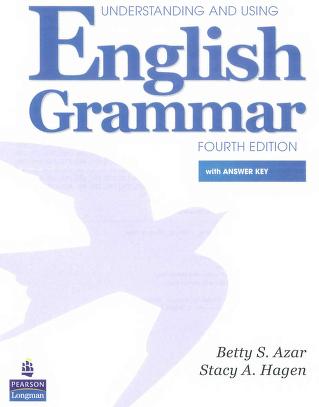 Click here to access pdf version of Understanding and Using English Grammar, 4th edition.
I would suggest that you print out pages 20 and 21, a list of common irregular verbs. Unfortunately, the commonest verbs are very likely to be irregular.