Classes in English for Speakers of Other Languages are offered for adult Nashvillians in classrooms provided through the generosity of the members of the Belmont United Methodist Church, at 2007 Acklen Ave., Nashville, TN 27212. Our primary class meets Tuesday and Thursday mornings from nine to noon.
We have a very diverse and interesting group of students, and we welcome new students. For further information, go to contact us on the navigation bar and send me an e mail.
Cheers, everyone! Happy Thanksgiving! We're just happy to be together.
We have a new associate teacher
Silin Yin will be our associate teacher for the fall semester. Silin is an advanced student in the Peabody college of Education of Vanderbilt University. We are honored that Silin and Peabody chose our class for her practicum.
Silin is helping Eve and Hyo
Writers' Showcase 2017
April 27 was Writers' Showcase night. Twenty two students in our class submitted essays for the Writers' Showcase, and of these, the judges chose three to be read before an audience of friends of the Belmont ESL Program, and, of course, friends and families and fellow students. The three students whose work was selected were Inhee Choi of Korea, Kalen Yu of China, and Selda Canturk of Turkey. I am very glad that I didn't have to choose, because I read them all and I thought they were all great!
BELMONT ESL WRITERS' SHOWCASE 2018
On Thursday, April 26, a special celebration will be held at 6:30 p.m. in the Community Center of Belmont United Methodist Church. All students, their families, and members of the community are invited. Winning stories from each class will be read by guest speakers. Refreshments will be served. Please invite your family and friends to attend to hear these wonderful stories.
Homework
Homework is an important part of the learning process, and I expect every student to do his homework every week. When I read over your written work, I can identify areas in which the whole class needs further instruction. This helps me to plan my lessons. In addition, I can find some individual problems that I can help you with.
There are three homework assignments this week. They will be about the same every week.

1. Choose five of the phrasal verbs that I gave you Tuesday, and write one sentence using each of these phrasal verbs; a total of five sentences. You may send your homework to me by e mail. If you send it as text, I will print it out, correct it, and return it to you next week. If you send it as a MSWord attachment, I will correct it using track changes, and e mail it back to you. You may also simply write your homework on paper and give it to me later this week. We will discuss the phrasal verbs and work on the substitutions next week.
2. Read an article in a newspaper or magazine, and be prepared to present it to the others at your table on Thursday. I want you to look at your listeners, and tell them about the article. Don't read to them.
3. Read the first part of The Speckled Band, by Sir Arthur Conan Doyle. Read it rapidly, and enjoy the story. Don't look up lots of words. Use your dictionary very little, or not at all. I think you will enjoy it.
Click here to download part 1 of The Speckled Band
Grammar Book
As I mentioned in my introductory letter, we will use Understanding and Using English Grammar, by Betty Schrampfer Azar. We are using the third edition in class, but the fourth edition, available here in .pdf form is very little different. You may access the entire book any time, free. We don't do a lot of work on grammar in this class, but we do some.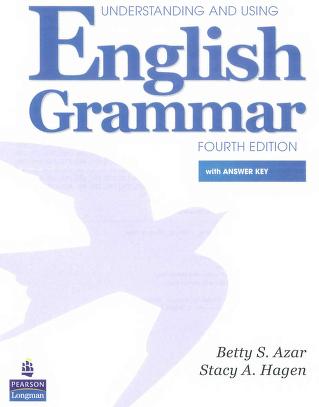 Click here to access pdf version of Understanding and Using English Grammar, 4th edition.
I would suggest that you print out pages 20 and 21, a list of common irregular verbs. Unfortunately, the commonest verbs are very likely to be irregular.
Book Night
The English Book Night will be at my house, 724 Summerly Drive, Wednesday, May 2, at 7:30 p.m. Directions to my house are on the link below. We will discuss The Education of Little Tree, by Forrest Carter . It is a very widely read American story. It tells of how a Cherokee boy is educated, first in the native American way, and then in the white man's school. It not difficult to read and should provoke a very interesting discussion. I think you will enjoy it.
All students of English are welcome. One need not be a student at Belmont ESL to attend. Wives or husbands of students are also welcome. The only requirement is that one must have read most of the book, and know generally what it is about, so that we can discuss it.
I encourage you to read it rapidly, without concern about the precise meaning of every word. Try to get a general idea of what the book is about. Use your dictionary very little, or none at all. Try to guess at the meaning of unfamiliar words. If there are whole sentences, or even whole paragraphs that you don't understand, don't worry. Make a note to yourself, and we'll discuss it as a group. If you didn't understand it, it is likely that many others didn't understand it, either.
This is not only a chance to discuss a book. It is a social occasion, and a chance to talk about various subjects in a relaxed atmosphere. It is not a class. I look forward to seeing you at my home on May 2. Learning a foreign language is hard work, but it can be fun, too.